Deprecated: Function get_magic_quotes_gpc() is deprecated in /customers/5/b/e/ogrkarate.se/httpd.www/blogg1/wp-includes/formatting.php on line 4382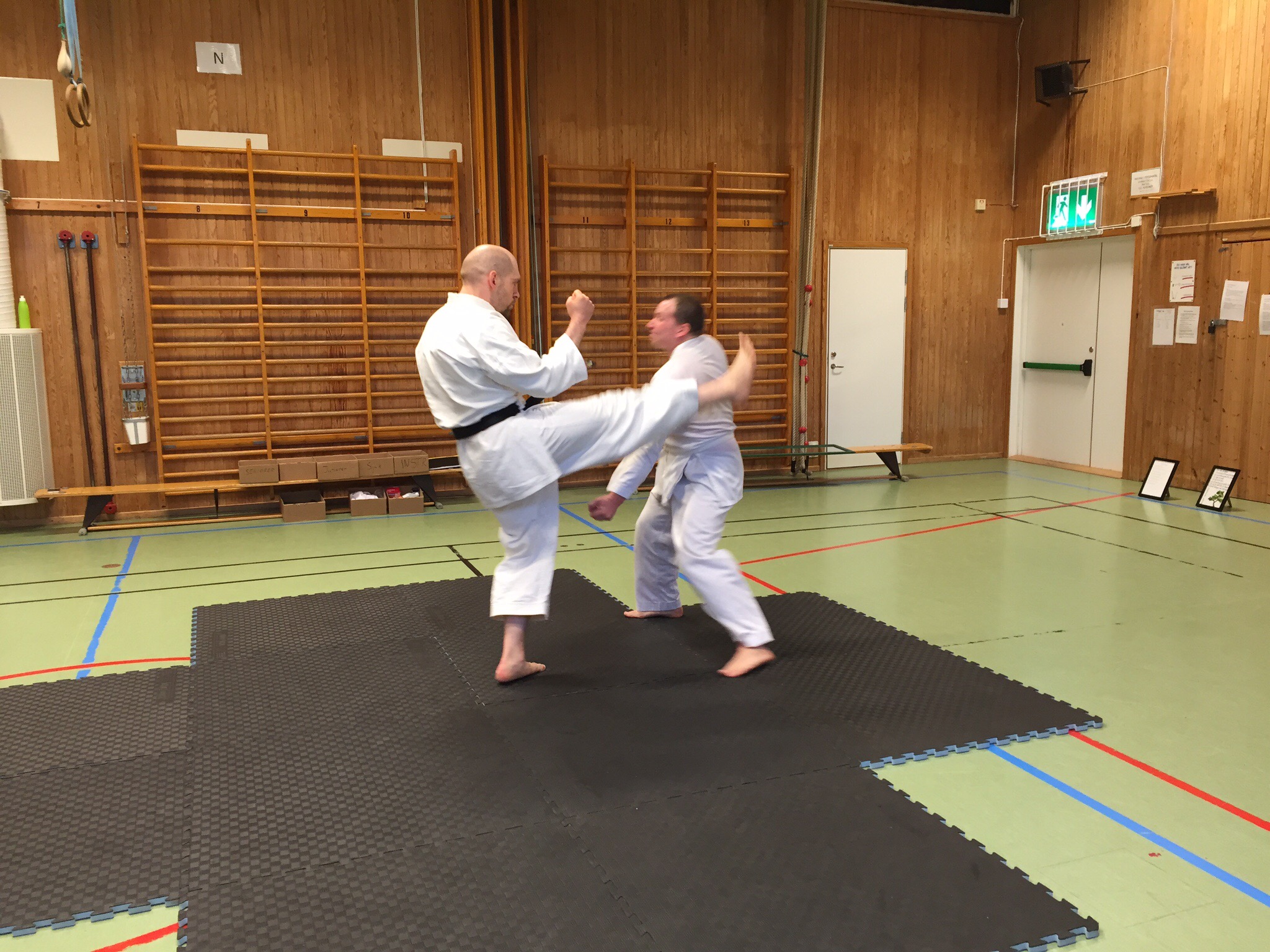 På passet igår så började vi lite flummigt. Jag ställde frågan:
Vilka tre "magiska" ord har vi i Dojon?
Och ställd på det sättet så är det en väldigt stor fråga som lätt kan bli flummig. Det var inte min avsikt, inte ens när jag sa "Ni bestämmer vad som är rätt svar, beroende på vad ni säger". Det var riktigt flummigt uttryckt, såhär i efterhand. Men poängen kvarstår, det finns tre ord (med synonymer) som är magiska och starka verkställningsord i Dojon!
Shuugo (Line up)
Betyder i all enkelhet Uppställning. Det innebär att det är (A) dags att börja passet och därför att släppa det som är utanför och de diskussioner man är i där och då. Alla skyndar sig att ställa upp för att de som redan gjort det ska få vänta så lite som möjligt.
Yame
Stop eller Sluta. Den som leder övningen eller passet avgör när det är dags att sluta det som tränas för stunden, eller meditationen i seiza för den delen. Det innebär att det kan vara dags att göra nästa moment, det kanske är en vattenpaus, eller dags att gå hem. Att man som hjälptränare gärna fortsätter en repetition till eller fortsätter instruera innebär två saker: Man blir inte klar och alla andra står och väntar på en. För att minska väntetiderna så förväntas man hörsamma signalen Yame och behöver man så kan man plocka upp tråden efter passet, eller i en vattenpaus, etc.
Både Shuugo och Yame är kommandon som i stort sett går ut på samma sak fast de ändå är helt olika. Båda orden är verkställningsord som (trots att man lätt kan tro det) inte handlar om att den som uttalat dem ska utöva någon slags makt eller kräver underkastelse. Nej, oavsett vem som ropat orden (och det är den som leder passet som avgör när det är dags) så handlar det enbart om det tredje ordet, Rei.
Rei
Det finns väldigt många som har sagt att karate och Budo "begin with Rei, and end with Rei". Några exempel är Chojun Miyagi sensei, Eiichi Miyazato sensei, Morio Higaonna sensei, Jesse Enkamp sensei, med flera. Den vanliga översättningen av Rei är "buga" och det är ofta en bugning som följer de tidigare nämnda verkställningsorden, men detta är ett vanligt förekommande missförstånd. Rei betyder egentligen inte "buga" utan "respekt" eller "tacksamhet" och det är det de första orden handlar om också. Det gäller inte enbart respekt mot den som leder passet (och har för avsikt att påbörja nästa moment, avsluta passet eller vad det nu må vara), utan respekt mot varandra, Dojon, alla redskap som vi använder oss av. Respekt så man inte stör någon annans koncentration med onödigt prat, respekt så man inte slösar någon annans tid, respekt mot den som håller passet så att denne inte upplever att tiden slösas bort, respekt mot den man har tränat med för att visa tacksamhet, etc.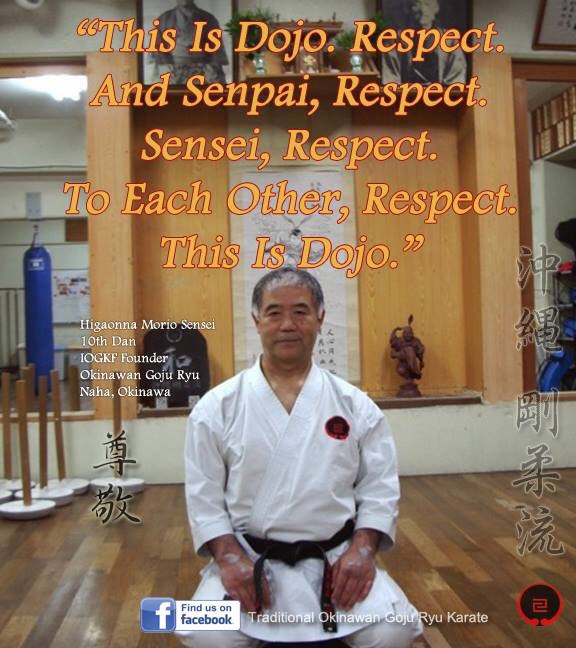 Men varför bugar man då? Man skulle kunna säga att det enbart är en kulturell sak man gör inom budo och att det är ett kulturarv från Japan som vi tar del i och lär vidare, det vore inte fel. Men det vore inte heller hela sanningen tror jag. Att buga är ett naturligt sätt för människor i flera kulturer, religioner och sammanhang, militära och sociala bl.a. att visa respekt. Det är till och med ett vanligt beteende hos djur när de visar respekt för varandra att böja på nacken för att visa att man inte vill något ont. Om respekt är det första syftet med att buga så är det det andra: viljan att visa att man inte har ont uppsåt.
Passet
Inleddes med en vanlig junbi undo men istället för den vanliga fysträningen som ligger mot slutet så gjorde vi A-programmet i knäkontrollen som några av oss gick kurs i för inte så länge sen. Syftet är att stärka musklerna runt knäna och i bålen för att man ska minimera risken att skada knäna. Efter det så öste vi på med kast och eftersom vi har fler mattor än förut så provade vi en annorlunda variant i syfte att få mer flyt och ruljans på kastandet. Det var riktigt kul att se och trots att det är en del detaljer (vissa större, de flesta betydligt mindre) att jobba på så tycker jag vi kan vara riktigt nöjda med nivån vi kastar på just nu. Den tekniska nivån är allmänt hög och Rei finns med även när, och speciellt när, det går fort. Omtanken och säkerheten är prioriterad när vi kastar.
Idag är det ingen träning då det är röd dag men på lördag ses vi i Dojon igen!